Our methods for creating engagement start with education–you can find research on almost every issue in Oklahoma public policy in our online library–and they move into motion with our Town Hall events, where citizens can discuss policy and discover solutions, together.
Change Through Collaboration
Oklahomans are stronger together, and after reaching consensus through the discourse at a Town Hall event, we empower citizens to lobby leaders to enact the necessary change, bringing the civic engagement plan of action full circle.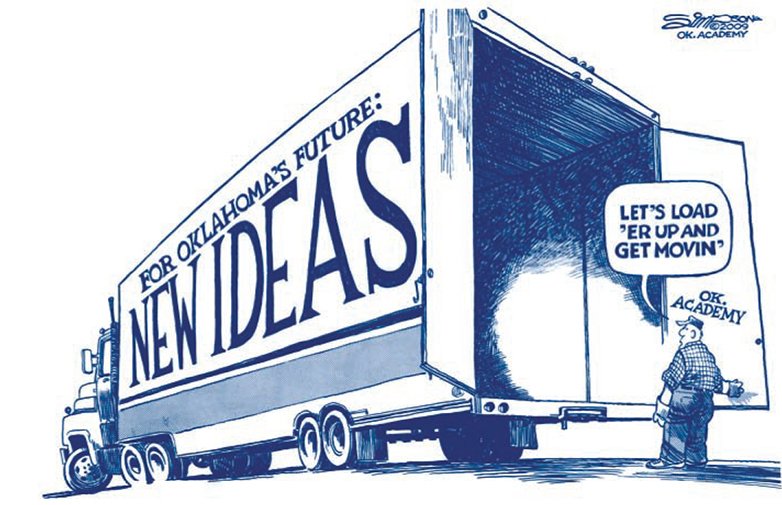 Oklahoma's first Republican governor, Henry Bellmon, was surrounded by top officials who were Democrats when he was first elected. This challenge, coupled with the fact that Bellmon truly saw himself as a representative of the people of Oklahoma and sought their engagement in the development of public policy, led to the founding of the Oklahoma Academy for State Goals by Bellmon in 1967.
Bellmon knew that a well-informed populace with the confidence to approach and engage their representatives was necessary for a strong, successful state, and he saw the need for an independent, nonpartisan, inclusive public policy organization to bring that level of enlightenment to fruition…and then continue to grow it throughout the years.
The Oklahoma Academy has remained focused on strengthening public policy through citizen engagement and has continued to uphold Henry Bellmon's vision, which often stands in stark opposition to divisive and lobby-centered modern politics.
Our Story
The Oklahoma Academy underwent a revitalization in 1985 and used a traditional conference format to form recommendations addressing critical public policy issues facing the state until 2000. The adoption of our current Town Hall model occurred in 2001, and has only strengthened our mission of fostering collaboration, even as most modern politics get more divisive and specialized.
Raise Awareness of the Issues, Provide Non-Partisan, Evidenced-Based Research and Hold Space for Civil Discourse and Consensus Building.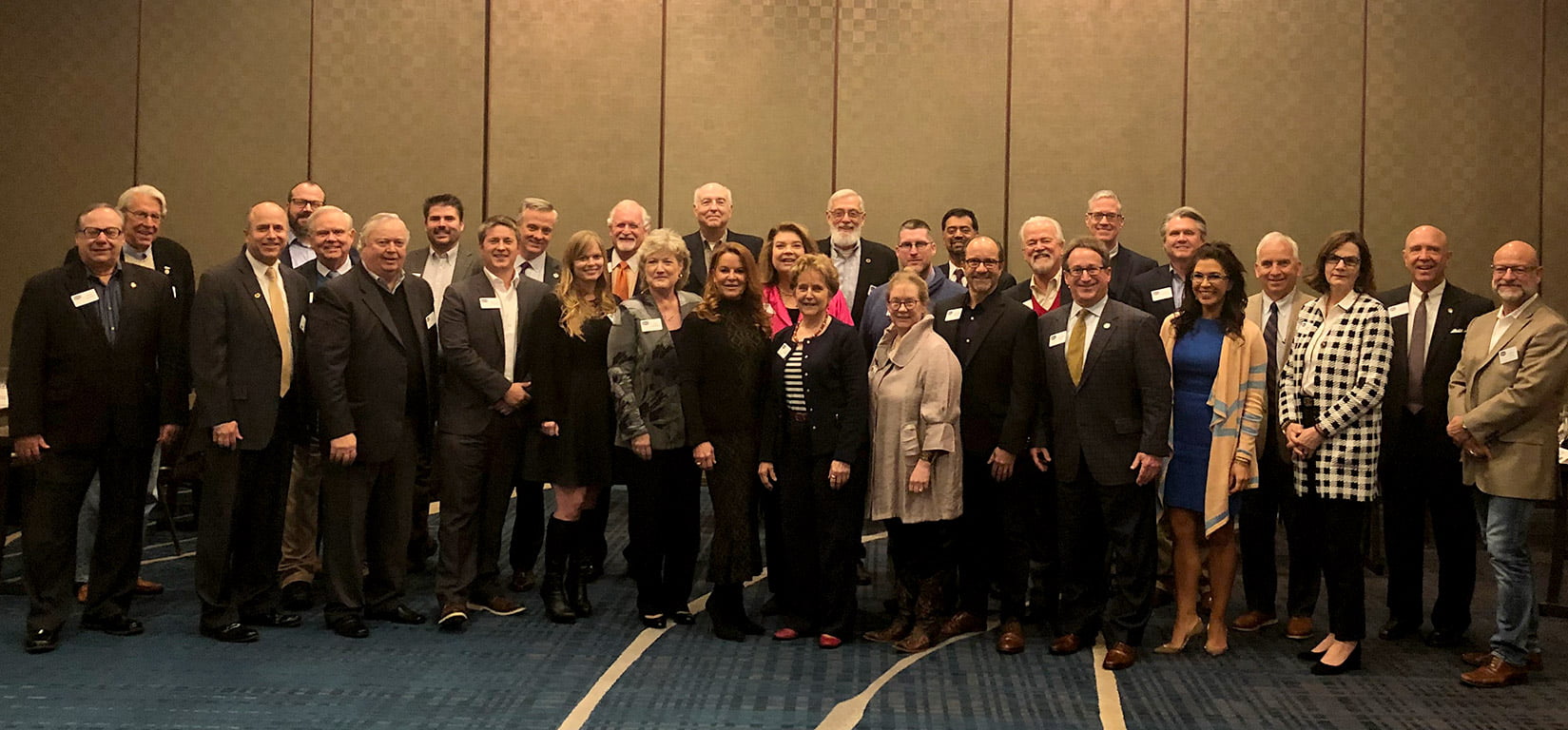 Officers of the Board
Board Chairman; Town Hall Chair – Clayton Taylor
Immediate Past Chair – Rachel Hutchings
Chair-Elect – Howard G. Barnett, Jr.
Vice Chair – Lee Denney
Treasurer/Secretary – Larry Briggs
Development Co-Chairs – John Harper, Dan Boren and Darryl Schmidt
Membership Vice President & Regional Community Team Leader – Michael Gordon
Board Governance Chair – Susan Winchester
Board Governance Vice-Chair – Valerie Thompson, Ph.D.
Committee Chairs
Investment/Finance Committee Chair – Doug Branch
Legislators' Welcome Reception Committee Co-Chairs – Barry Koonce and AJ Griffin
27th Annual Salute Sales Committee Co-Chairs – Bobby Stewart and Larry Rice
2020 Town Hall Planning Committee Co-Chairs – Richard Wansley and Anne Roberts
Executive Committee
Howard Barnett, President, OSU-Tulsa, Tulsa, Chair Elect
Roger Blais, Volunteer, Tulsa
Dan Boren, President – Oklahoma, First United Bank, Oklahoma City, Fund Development Co-Chair
Doug Branch, Of Counsel, Phillips Murrah, PC, Oklahoma City, Finance/Investment Committee Chair
John Budd, Secretary of Agency Accountability, Office of the Governor, Oklahoma City
Lee Denney, Rural Development State Director, US Dept of Agriculture, Cushing, Vice Chair
John Feaver, President, University of Science & Arts of Oklahoma, Chickasha
Michael Gordon, Community Affairs Manager NE OK, PSO, Tulsa, Membership Vice President
Stephen Greetham, Senior Counsel, Chickasaw Nation, Norman
John Harper, Retired PSO, Volunteer, Tulsa, Fund Development Co-Chair
Rachel Hutchings, Executive Director, Workforce Tulsa, Immediate Past Chair
Karen Langdon, Attorney, Legal Aid Services of Oklahoma, Tulsa
Adam McCreary, Manager of Govt. Relations, Cherokee Nation Businesses, Catoosa
Lana Reynolds, President, Seminole State College, Seminole
Anne Roberts, VP for Resource Development, Oklahoma Center for Nonprofits, Okla. City, TH Planning Co-Chair
Darryl Schmidt, CEO, BancFirst, Oklahoma City, Fund Development Co-Chair
Joe Siano, Associate Executive Director, OK State School Board Association, Norman
David Stewart, Administrator & Trustee, Oklahoma Ordnance Works Authority, Pryor
Bobby Stem, CEO, Association of Oklahoma General Contractors, Salute Sales Co-Chair
Clayton Taylor, Principal, The Taylor Group, OKC, 2020 Chairman of the Board; Town Hall Chair
Valerie Thompson, CEO, Urban League of Greater Oklahoma City, Board Governance Committee Vice Chair
Richard Wansley, Advocate Oklahoma LLC, Tulsa, TH Planning Co-Chair
Alba Weaver, Manager of Economic Development, OG&E, Oklahoma City
Susan Winchester, Chickasha, President, The Winchester Group, Board Governance Chair
Board Members
Daniel Billingsley, VP External Affairs, Oklahoma Center for Nonprofits, Tulsa
Larry Briggs, Shawnee, Treasurer/Secretary
Teresa Burkett, Attorney, Conner & Winters, Tulsa
Stephanie Cameron, Community Affairs Director, AAON, Inc., Tulsa
Michael Carolina, Oklahoma City, Executive Director, OCAST
Joe Dorman, Executive Director, Oklahoma Institute for Child Advocacy, Oklahoma City
Amy Ford, Red Ant, LLC, Durant/Edmond
Brian Gaddy, Autry Technology Center, Enid
Anil Gollahalli, Norman, Executive VP and General Counsel, University of Oklahoma
Jeff Greenlee, Altus, President, NBC Oklahoma
AJ Griffin, Government Affairs, PayCom, Inc., Oklahoma City, LWR Planning Com Co-Chair
Michele Hockersmith, Durant, Assistant State Director, Oklahoma Small Business
Phil Kennedy, Lawton, President, Comanche Home Center
Craig Knutson, President & CEO, Potts Family Foundation, Oklahoma City, Research Chair
Lou Kohlman, Judicial Assistant, Court of Criminal Appeals, Oklahoma City
Barry Koonce, Govt. Affairs, American Fidelity, Oklahoma City, LWR Planning Com Co-Chair
Jodi Lewis, Director of Government Affairs, Oklahoma Municipal League, Oklahoma City
Thomas Lewis II, Field Rep for Congressman Cole, Norman
Josh McClintock, Partner, RedAnt, LLC., Edmond
Darrell Mercer, Counselor, Tulsa Public Schools, Tulsa
Chris Meyers, Oklahoma Association of Electric Cooperatives, Oklahoma City
Michael Neal, CCE, CCD, President & CEO, Tulsa Regional Chamber, Tulsa
David Nimmo, Norman, President and CEO, Chickasaw Nation Industries
Martie Oyler, Regional Manager, ONE Gas, Inc., Enid
Daniel Regan, Executive VP & Director of Leasing, Price Family Properties, Tulsa
Larry Rice, Rogers State University, Claremore, Salute Sales Co-Chair
Mark Schell, Branch President, Security State Bank of Oklahoma
Sara Jane Smallwood-Cocke, Senior Govt. Affairs Strategist, Choctaw Nation, Norman/Durant
Craig Stephenson, City Manager, Ponca City
Matt Wansley, Tulsa, Executive Director, Mechanical Contractors Association/SMACNA of Oklahoma
Sandy Washmon, retired educator, Woodward
Matthew Weaver, CED Coordinator, ACOG, Oklahoma City
John Wiscaver, Tulsa, Executive Vice President, Grand River Dam Authority